Overview
The prominent bone at the side of the big toe rubs against the shoe and the skin becomes reddened. Often a sac of fluid called a bursa may develop in the tissue overlying the prominent bone. This swelling, consisting of inflamed soft tissues and underlying prominent bone is what we call a ?bunion?. If left untreated, they can be very painful.
Causes
Long periods of pressure from a tight-fitting shoe can cause the inflammation and the pain. This often happens when the big toe is forced into a position where it presses inward and overlaps the second toe. The base of the big toe then is pushed beyond normal alignment of the foot, resulting in the prominence typical of a bunion.
Symptoms
Symptoms of a bunion include irritated skin, sensitivity to touch, and pain when walking or running. Since the bunion may grow so prominent as to affect the shape of the foot, shoes may no longer fit properly, and blisters may form at the site of friction and pressure. Bunions may grow so large that an individual must wear shoes that are a larger size than they would otherwise wear. If the bunion becomes a severe case, walking may become difficult.
Diagnosis
Looking at the problem area on the foot is the best way to discover a bunion. If it has the shape characteristic of a bunion, this is the first hint of a problem. The doctor may also look at the shape of your leg, ankle, and foot while you are standing, and check the range of motion of your toe and joints by asking you to move your toes in different directions A closer examination with weight-bearing X-rays helps your doctor examine the actual bone structure at the joint and see how severe the problem is. A doctor may ask about the types of shoes you wear, sports or activities (e.g., ballet) you participate in, and whether or not you have had a recent injury. This information will help determine your treatment.
Non Surgical Treatment
In the early stages of the formation of a bunion, soaking feet in warm water can provide temporary relief. The best way to alleviate the pain associated with bunions is to wear properly fitting shoes. Shoes designed with a high, wide toe box (toe area) are recommended for people suffering from forefoot disorders, such as bunions. Shoes with rocker soles will unload pressure to the bunion area. Orthotics are also recommended for this condition to provide extra comfort, support, and protection. Other conservative treatments include using forefoot products designed to accommodate and relieve bunions such as bunion shields, bunion night splints, and bunion bandages. These conservative treatments can limit the progression of the bunion formation, relieve pain and provide a healthy environment for the foot.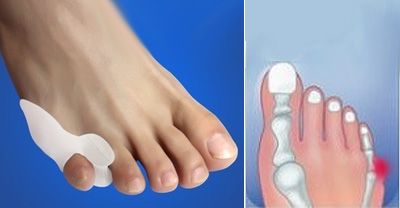 Surgical Treatment
Bunion Surgery Is Not Cosmetic Surgery. Bunions may not be pretty, but cosmetic deformity is not a good reason to perform surgery. There are too many potential complications to perform a bunion surgery simply for cosmetic reasons. Patients Must Have Realistic Expectations. Bunion surgery can be helpful at relieving pain, but patients should not expect to have "normal" feet after surgery. In one study, a leading researcher on foot problems such as bunions, found that 1/3 of his patients could not wear the type of shoe they desired prior to surgery. The Foot Width Change Is Small. Bunion surgery decreases the width of the forefoot by about 1/8 of an inch. That's not much! That is the reason why even after surgery, most patients will not be wearing slender shoes. Surgery can be an excellent treatment option for patients with problems from their bunions. That said, patients must understand this is a procedure that has potential complications and a lengthy rehabilitation. The patients who tend to be unsatisfied with bunion surgery are those patients who are having surgery done to allow them to have normal looking feet or allow them to wear slim shoes. If that sounds like your motivation, think long and hard about surgery. Surgery should be reserved for those patients who have significant pain, and are unable to correct the problem with adaptive footwear.
copyright © 2023 Rochell Weser all rights reserved.
Powered by
FC2 Blog
.